Teeth Whitening

Silverdale, WA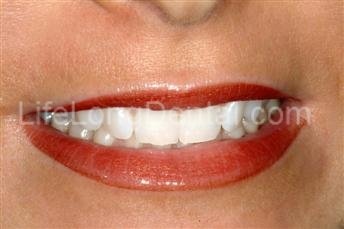 Are your teeth looking dark, dingy and just discolored? Our teeth naturally collect stains just through normal use. But, stained, darkened teeth can add years to your appearance. At Life Long Dental, we can help you have a brighter smile with a fast and effective prescription strength teeth whitening treatment. We offer both in-office teeth whitening treatments and prescription strength customized take home kits.

Having your teeth whitened is a simple treatment that can make a huge impact on your look. Stains on your teeth are categorized as intrinsic or extrinsic.


Intrinsic Stains

Intrinsic stains are the stains that are deeper, or part of the enamel, they cannot be simply whitened away. Intrinsic stains occur from fluorosis, certain medications, medical issues, or trauma to the tooth. A tooth that is intrinsically stained may require a different treatment such as a dental veneer or a dental crown.


Extrinsic Stains

Extrinsic stains are the stains that are surface stains. They collect from beverages and food that we intake, and are common for most people. Extrinsic stains are more prominent in people who drink dark colored drinks, such as coffee, tea or red wine. These stains also collect from sauces including tomato based sauces, and soy sauce, or from any use of berries. One of the biggest causes of extrinsic stains is the use of tobacco products. Our hygienist will try to remove some of these stains through polishing, but to get a substantial change, teeth whitening may be needed.


Teeth Whitening In Our Office

Whitening your teeth in our office provides a couple of large benefits, including prescription strength whitening, administered in a controlled way and having treatment continue until we see the difference you're looking for. We are able to provide a strong prescription strength whitening gel that when combined with laser treatment, works fast and effectively.

The whitening process includes:

| | |
| --- | --- |
| • | Polishing: We will first polish your teeth with a gritty toothpaste and a rotary brush. This is to remove the easy stains and any plaque. |
| • | Dry: We will then dry the teeth and create a dam with the use of gauze, separating the teeth and gums. Retractors may be used to keep soft tissue from touching your teeth. We want to create a barrier between the teeth and any soft tissue. |
| • | Apply Gel: We will then coat the front face of your enamel with the bleaching agent. This is a strong prescription strength solution of either hydrogen peroxide or carbamide peroxide. The strength of this agent cannot be purchased over the counter. |
| • | Curing: In addition to time, we may use a curing light, or blue laser, to enhance and speed up the whitening process. We may reapply the gel in areas until the desired result is achieved. |
| • | Rinsed: The teeth are then rinsed and cleaned to remove the gel. We will discuss sensitivity and what foods to avoid for the next 48 hours. |

Teeth whitening does an incredible job, but is not a permanent solution. Many patients return annually for touch ups.


Are store-bought whitening kits effective?

Store bought kits can be somewhat effective, but contain significantly less peroxide strength than we can administer. This means that store bought treatment works, but takes much longer to achieve.


What if I have Intrinsic Stains?

Patients who have intrinsic stains, meaning stains that are deeper than their enamel, may need to seek a different type of treatment. This can include dental veneers or dental crowns.

To learn more, give us Life Long Dental a call at (360) 633-2377 today.