Meet Our Team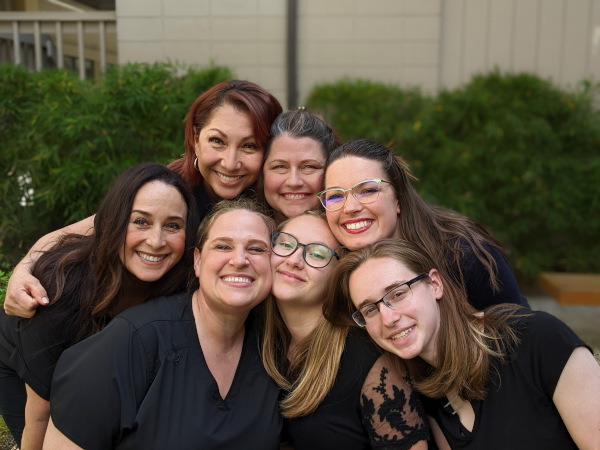 Each staff member combines their training, skills, and unique perspective on the care they deliver for an exceptional patient experience. All employees have been clinically trained as dental assistants and at any time are capable of performing any critical function to make the office run smoothly.


Amy, Front Office and Financial Coordinator

Originally from Longview, WA, Amy re-located to the Kitsap Peninsula in 2013. Amy has 30 years in the dental field. Being an outdoor enthusiast, her interests are kayaking, snowshoeing, camping and travel. Her interest in dentistry is in helping people and getting them out of the cycle of pain. She is probably the first person you will speak to at our office and she is well versed in our practice philosophy. She is dedicated to treating you with dignity, respect, and compassion as she would care for any member of her family.
---
Tawnie, Office Manager

Tawnie was born in Bremerton but raised in Eastern Washington and moved back to Kitsap County in 2009 to pursue a dental career. She is currently in her 10th year of being a part of the dental community, as she was an assistant for many years prior to being in the front office. Tawnie loves helping our patients to achieve and maintain their oral health every day and to keep a smile on their faces. She lives in port orchard with her family and enjoys spending time outdoors with her kids and fur babies, or snuggling up with a good book.
---
Jennifer, Dental Hygienist
Jennifer is originally from California and raised in Kitsap County. She earned her Bachelor of Science in Dental Hygiene from Eastern Washington University. Shortly after college she left to enjoy the sunshine and beaches in Southern California while working in the La Jolla Area. She also spent a few years in the Bay area before moving back to the PNW to raise her son closer to family. She continues her education by taking various courses to be able to provide the most current research-based care for her patients, and guide them on their individual pathway to optimum oral health. She prides herself in providing thorough yet gentle cleanings. When Jennifer is not working, she enjoys spending time with family and friends. She is a foodie and loves music, wine tasting, planning her next getaway, being outdoors, and gardening.
---
Sandi, Dental Hygienist
Sandi started her dental career in 2006 as a Certified Dental Assistant, then earned a Bachelor of Science in Dental Hygiene from Idaho State University in 2011, graduating on the Dean's List. Her commitment to good patient education empowers people to make the best decisions for their unique oral situation. She is passionate about connecting with patients and providing excellent care with a gentle hand. Sandi grew up singing and dancing, loves to draw and paint, and now channels that creativity into marketing and social media for our office. She was born in Austin, Texas, raised in Boise, Idaho, and moved to the Kitsap Peninsula in 2012. She loves football,
hiking, camping, reading, and has a gift for roasting the perfect marshmallow!
---
Mattie, Registered Dental Assistant
Mattie joined our team in September 2021, after graduating from Bates Technical College for dental assisting. Born and raised in Poulsbo, WA, Mattie enjoys doing all the fun things the PNW has to offer. In her spare time, you can find her with her family at their cabin in Plain, WA, either on the lake boating and jet skiing, or in the mountains snowmobiling during the winter months. Her favorite thing about dentistry is being able to make people feel comfortable in the dental chair, meeting new people and helping with any of their restorative needs.
---
Coco, Certified Dental Assistant
Originally from Tijuana, Mexico, Coco speaks fluent Spanish. She moved to Kitsap 21 years ago, and has been dental assisting for 27 years. Coco is truly an expert in her field. In fact, some may even say she trained Dr. Gillespie how to properly work with a dental assistant, since she has worked with him since he graduated dental school. Coco enjoys crafts, volunteering, being
outdoors, and planning her next vacation. She loves being a dental assistant and the people she works with.
---
Hunter, Registered Dental Assistant
Born and raised in Idaho, Hunter is a Pacific Northwesterner at heart. She is currently working on living off-grid in Caldwell, ID building a tiny home. Hunter has been married for 4 years and has a one-year-old daughter named Darcy, and a 3 year old labradoodle named Goose. Her family loves hiking, camping, and street tacos. Hunter loves getting to talk to and meet new
people every day through dental assisting.
---