Dental Implants

Silverdale, WA


Your teeth are an essential feature of your body. When you lose them, your whole life is affected. Eating becomes a challenge. You suddenly find that speaking is difficult, and others cannot understand you. What's more, your appearance is greatly affected, leading you to hide your smile.

At Life Long Dental, our goal is to provide you with the best oral healthcare possible. With dental implants, we can restore your smile, and the functions of your mouth, giving you your life back.

Wondering if you are a candidate for implants? Call (360) 633-2377 to schedule a free implant consult.


What causes tooth loss?

One of the most common causes of tooth loss is gum disease. When you neglect oral hygiene, the bacteria in your mouth multiply and feed on lingering food particles. Plaque collects on your teeth, providing a sticky surface for bacteria to adhere to. Your gums become swollen and red.

Eventually, your gums begin to pull away from your teeth, and bacteria fall below the gum line. From there, bacteria attack your jawbone and periodontal ligaments. Your gums recede, your teeth become loose, and they eventually fall out. Other causes of tooth loss include:


| | |
| --- | --- |
| • | Oral trauma |
| • | Bruxism |
| • | Lifestyle habits such as smoking |
| • | Age |
Dental Implants
Dental implants consist of small titanium rods, which are surgically inserted into your jawbone. As your bone heals, it fuses with the rods, creating a strong "root" on which your false tooth, or teeth, is placed.
Implant Case: Front tooth with previously placed crown that broke off.
Implant with All-Ceramic Crown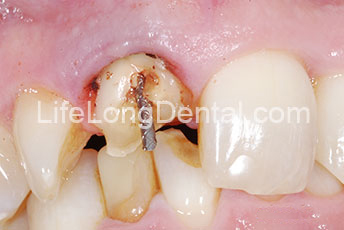 Fractured tooth previously treated with root canal (before).
All ceramic crown with zirconia abutment (after).
Types of Dental Implants

There are several types of implants, allowing your specific tooth replacement needs to be easily met:


| | |
| --- | --- |
| • | Single tooth implants used to replace a single missing tooth. |
| • | Multiple tooth implants, where one or more implants are used to replace a section of missing teeth (in place of a bridge or partial denture). |
| • | All on 4 is an implant-supported denture solution to missing teeth. |
| • | Implant supported dentures, used when you are missing an entire arch or teeth. The number of implants needed to support this type of restoration depends greatly on your needs. Typically, 6 to 8 are used, but in some circumstances, as little as 4 can be placed. |
Getting Your Implants
Getting dental implants is a procedure that takes several months. After you have been determined as a candidate for implants, we start by removing any unhealthy teeth that may still be remaining. Then, with the assistance of images taken during your consultation, we begin surgery. We make incisions in your gum tissue to expose the bone. Once we have finished drilling, the implants are placed, and your gum tissue sutured around the rod. Then the healing begins.
We will provide you with temporary teeth so that you can resume normal functions while you heal. During this time, we will monitor the progression of your healing to make sure everything is progressing as it should. When you have fully healed, abutments are placed on the exposed portions of your implants. Impressions of your mouth are taken, which will allow for the fabrication of your permanent teeth. When your teeth are ready, they will be secured firmly in place.
Benefits of Dental Implants

Dental implants have several benefits:


| | |
| --- | --- |
| • | Restored abilities to eat and speak. |
| • | Easier to clean and care for than traditional dentures. |
| • | Implants stay firmly in place. There is no need to worry about slipping or even falling out. |
| • | Your smile is restored, as is your confidence. |
Schedule An Appointment Today!
If you are around Silverdale and have suffered tooth loss, dental implants can give you a permanent solution, and give you back your beautiful, healthy smile. Call Life Long Dental at (360) 633-2377 today for more information.