Are There Any Foods That Stop Gum Recession?
Posted on 8/24/2020 by Amy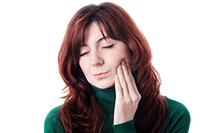 Most people know the basic rules for keeping your teeth and mouth healthy. The simple rules are to brush twice a day, floss regularly, and avoid sugary food and beverages. However, there is more you can do at home to keep good oral hygiene and prevent dental issues such as receding gums.


What Is Gum Recession?

Gum recession is when the roots and nerves of teeth are exposed, allowing space between the gum and teeth which can cause bacteria to build up.
Some patients may not be aware that they are suffering with gum recession and therefore do not seek dental care. If you experience any of the following symptoms, you should schedule a dental appointment immediately: sensitive teeth, inflamed gums, and bleeding with brushing.


Foods That Promote Healthy Gums

One of the most common foods to cause dental problems are those high in sugar. While sugar cannot directly cause gum recession, it can help its progression. Foods such as candy are best to be avoided, as they can often be the cause of dental problems and worsen gum diseases over time.


But What About What You Can Eat?

Maintaining a well-balanced diet is vital for good overall health, and that includes your gums. When you are not getting enough vitamins and minerals in your diet, your body is not getting enough supply to heal, prevent infections, and rebuild tissue.

Foods that you should be eating plenty of are those high in vitamins, minerals, and protein. A great source of these are dark, leafy greens, sweet potatoes, carrots, broccoli, meat, fish, tofu, and grains.

By practicing good oral hygiene at home, drinking plenty of water, and maintaining a healthy diet, you can help to prevent dental issues and therefore costly and timely treatment. If you are worried about receding gums, contact us today to schedule an appointment.