Digital X-Rays: Why They Are Important
Posted on 4/27/2020 by Life Long Dental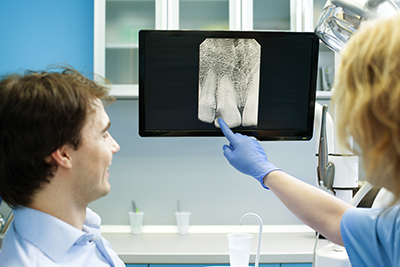 Digital X-rays are the latest technology for X-ray imaging. Instead of using radiation to capture images, digital X-rays use electronic technology. In fact, radiation exposure is reduced up to 95% with digital X-rays. This is a major benefit for patients who have had concerns over radiation in the past. With digital X-rays, we can see all hidden structures in your mouth – between your teeth, the roots of your teeth, your jawbone. They allow us to see any signs of abnormalities, such as abscesses, tumors, bone loss and more. Without X-rays, these issues could go undiagnosed and grow worse over time.


Better Preventative Care

After we take your digital X-rays, we can then employ the use of specialized software to manipulate the image. We can zoom in on target areas, and enhance the picture for a clearer view. We can change the display from negative, to black and white, to color. None of these features were ever possible with traditional X-rays. And they all allow us to provide you with better preventative care. We are able to find issues in the early stages, and take action right away.


Cavity Detection

Tooth decay is practically invisible in its earliest stages. If decay is happening between your teeth, it is impossible to notice right away. In fact, it may not be noticed until it has become a more serious issue. With digital X-rays, the specialized software allows us to detect the early stages of decay, so we take measures to prevent it from becoming worse.


Monitoring Your Jawbone

A healthy jawbone is a strong jawbone. However, when you have more advanced stages of gum disease, the bone becomes weak. When your jawbone is weak, it can change shape, which can then affect the alignment of your teeth. Misaligned teeth can lead to a series of other oral health issues like uneven tooth wear and jaw pain. Digital X-rays allow us to check for these issues, and ensure any bone loss you have experienced does not grow worse.


Improved Treatment Plans

All of the features available with digital X-rays provide us with a way to examine the inside of your mouth in a way that was never possible with traditional X-rays. Because of these features, we are able to not only provide you with a more accurate diagnosis, but we can also provide you with a much more effective, customized treatment plan.

For more information on digital X-rays, contact Life Long Dental today.